The Kinesio Tape Therapy, developed by Dr. Kenzo Kase over 25 years ago in Japan, has quickly become the gold standard for therapeutic rehabilitative taping. The proprietary method of taping uses a uniquely designed and patented tape for treatment of muscular disorders, as well as lymph edema reduction.
Kineseo Taping ® involves taping over and around muscles in order to assist and give support or to prevent over-contraction. It affects the activation of the neurological system, the body's information processor, and the circulatory system. Muscles, crucial for body movement, also control among other functions, the circulation of venous and lymph flows and body temperature. The failure of the muscles to function properly, therefore induces various kinds of symptoms.
This method and tape allow the individual to receive the therapeutic benefits 24 hours per day with both comfort and ease, because each application can be worn for several days.
Kineseotaping (R) has been used by a variety of professional athletes, including the women's volleyball team at the summer Olympics, the US Cycling team, and star tennis players as well.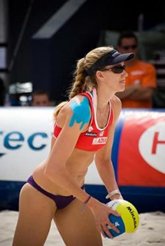 Olympic Gold-metal winner Kerri Walsh sporting blue kinesiotape(R) preparing to serve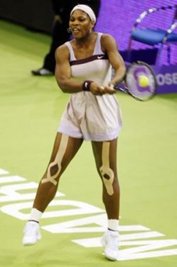 Serena Williams Worlds #1 Tennis Player wearing flesh-colored tape on each leg during a match
AcuSportsTherapy is a top sports acupuncture Delray Beach clinic that helps people reach their highest potential for peak performance in life and sports. Holly Green, founder of AcuSportsTherapy, incorporates principles from Traditional Chinese Medicine (TCM) and Western Sports Medicine to view the patient's injury from a truly integrated perspective. Contact us to learn how we can help you recover faster, prevent recurring injury, perform at your highest level, and sleep better.
Research has shown that acupuncture can reduce healing time by as much as 50% and can promote the resolution of injuries in several ways. First and foremost, it can provide pain relief by stimulating the body's own endorphin (feel good hormones) system.

The best time to get acupuncture is BEFORE an injury occurs. Monthly or weekly maintenance can make all the difference in the world when it comes to preventing an overuse injury. Athletes can maintain more consistent injury free training and performing time as well as maintaining a higher level in their performance.
Sports medicine acupuncture has been shown to create higher endurance rates while keeping muscles in good condition, decreasing the number of injuries and recovery time, thereby leaving more overall injury free time and better performance in the athletes chosen path.

Acupuncture has long been used for stress and anxiety reduction. By stimulating the natural feel good endorphin hormones in the body, cortisol levels have been known to drop. There is evidence that suggests that acupuncture may also work by activating your body's natural opioid system, which may also help to reduce pain or induce sleep.