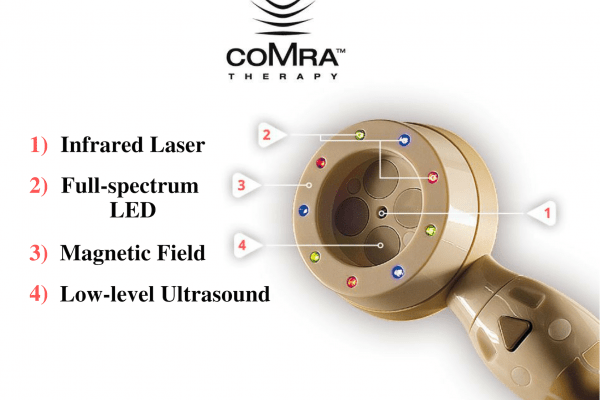 Why Choose CoMra Laser for Pain Relief?
Are you in pain? Do you struggle with how to manage your pain on a daily basis? If pain management is making your life challenging, consider our CoMra laser therapy in Delray Beach.
This particular low-level laser therapy (LLLT), also known as cold laser, is unique in that it has four complimentary modalities all working together to promote healing. CoMra laser therapy features low-level laser therapy, magnetic therapy, color LEDs, and low intensity ultrasound.
This synergistic approach is providing our clients with pain relief to help them get back their daily routine.
CoMra stands for "Coherent Multi-Radiances" and it provides a safe, non-invasive application for people dealing with chronic pain.
Here's what people are saying about their experience…
"…the best addition [to my treatment] was CoMra laser. [Holly] used that on my heel for the pain I was experiencing and [it's] now way under control. Thanks for making me pain free!" — Jim V
"I had laser therapy for my back and Holly is awesome. She knows exactly the spots to use it on. I could feel results immediately. I had a great response afterwards and I feel it has had long lasting effects." —Nancy L.
"I injured my thumb in 2004. It hurt until Holly treated it with the laser in 2018. It has not hurt since." —Sheryl
Types of Pain Relief CoMra Laser Therapy Supports
CoMra laser therapy has been helping people manage such pain symptoms as:
Back pain
Lower-back pain
Shoulder pain
Neck pain
Headaches
Migraines
Sports injuries
Chronic pain
Temporomandibular joint disorder (TMJ)
Plantar fasciitis
Tendon and ligament injuries
Inflammation in joints (such as with rheumatoid arthritis)
And it reduces swelling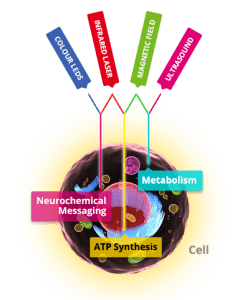 How Does CoMra Provide Pain Management and Pain Relief?
Low-level laser therapy, also known as cold laser, has a 40-year history in regenerative medicine. CoMra laser therapy has a unique and synergistic approach to promote healing as it provides four modalities in one laser. These four include:
Low-level laser therapy
Color LEDs
Magnetic therapy
Low intensity ultrasound
Together, these individually powerful modalities, can provide stronger support for optimal wellbeing. CoMra laser therapy is said to help:
Stimulate cellular regeneration
Provide anti-inflammation effects
Improve the lymphatic system to help detoxify
Increase blood flow to carry nutrients and hormones where they need to be
Increase oxygen flow in blood to assist in healing
What Should I Expect from a CoMra Laser Therapy Session?
While you will feel the laser device touch your skin, most people feel nothing from the session itself. Using CoMra laser is painless, non-invasive, and nontoxic so you'll feel no vibration or heat. Each treatment takes only a few minutes so it's time efficient as well!
During a CoMra laser session, the body's tissue is absorbing the wavelengths of light, laser and frequencies of magnetic therapy and color. Those modalities cause damaged cells to respond with a physiological reaction that promotes regeneration.
Lasers are used in various areas of medicine today including dentistry, skin rejuvenation, and pain centers to name a few.
Get Laser Therapy in Boca Raton and Delray Beach, Florida
If you're looking for a comprehensive, holistic, safe and non-invasive approach to manage chronic pain that you have either from daily living or from life as an athlete, then we are uniquely equipped to help you!
Our whole-body, natural approach considers the whole human being. And with our unique background in both body work and Chinese medicine, we have a specialized, skilled complimentary approach to dealing with pain. As complex as the human body is, it just needs a few simple things to help support the healing process. We will guide you through a simple action plan to fit your needs so you can return to your carefree self. We are here to help you feel (and look) younger, healthier, and get an energy boost by providing your body with optimal support!
Whether you are local or visiting, you are most welcome! Most of our clients tend to come from the Delray Beach, Boca Raton and Boynton Beach area. No matter where you are from, come in to experience CoMra laser therapy for pain management in Delray Beach today!